Solstice LAMP was installed during Vivid Sydney 2013 in the AMP forecourt at Circular Quay, Sydney. As people walked through the space, unique sonic and visual creation generated the animations and sounds that then traveled up the 125 metres tall building facade, eventually transforming into origami cranes. The system used projectors, 3D sensors, lasers and generative music.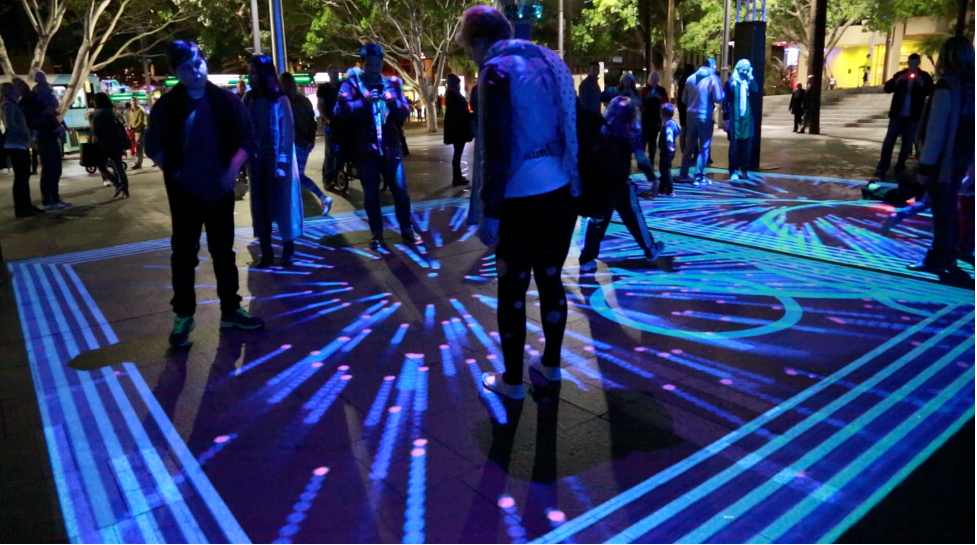 The urban intervention successfully sparked casual human-to-human interactions: social encounters were promoted and led to small-talk between strangers united by sharing the playful experience. The urban space was noticeably reactivated, with people spontaneously behaving in ways they would not otherwise, partially due to the "license" to play granted by the festival environment, but also due to the social encouragement of witnessing other people engaged in the embodied interaction at the floor level.
Solstice LAMP was commissioned by the University of Sydney, the Government of New South Wales and the Amplify Festival. Amplify is Australia's largest open corporate business innovation platform and it is organised by AMP, one of the largest financial corporations in Australia and New Zealand. The Amplify Festival is a partner of Vivid Sydney, an annual public winter festival in Sydney, Australia. Vivid Sydney is held every evening, after dark, for a three-week period. A strong focus of the festival is to encourage the development of interactive light installations that allow the general public to experience their city in an unusual and playful way. In 2013 Vivid Sydney displayed more than 60 light installations and attracted almost a million visitors.
Photos by Nathaniel Fay.