Clickable prototypes
Millennial travellers on long-haul flights increasingly abandon inflight entertainment (IFE) in favour of downloading content on Netflix/Spotify and bringing their own devices to watch on board.
The project focused on a design solution that integrated the old-fashioned comfort of IFE with the bring-your-own-device and binge-watch tendencies of the modern travellers into a seamless travel entertainment experience, across devices and across flights.
Identify user needs – summary of background research
I employed a user-centric design thinking approach, starting with empathising with the users.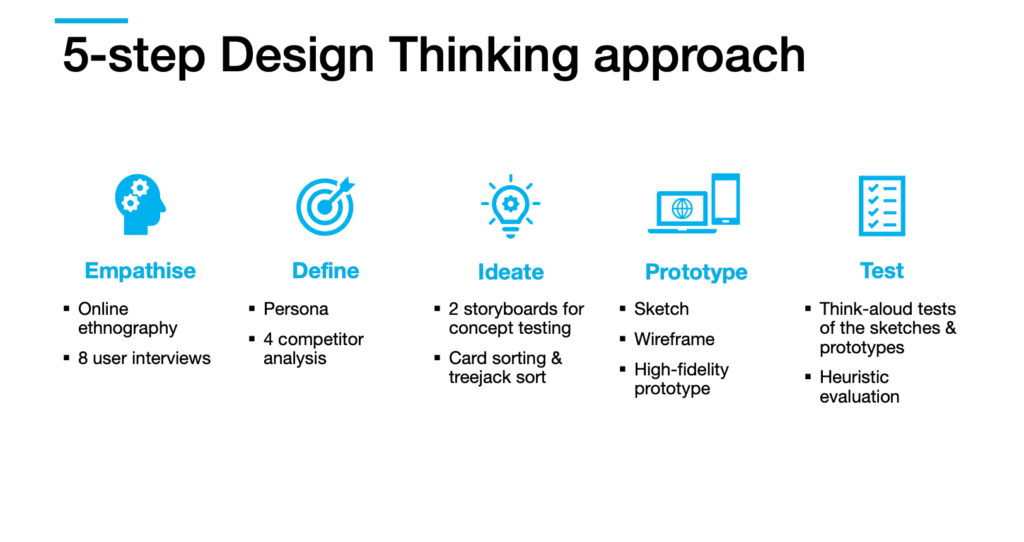 A user persona with 3 main pain points were identified:
Cannot find interesting movies while browsing onboard
Cannot binge-watch shows because airlines offer random episodes
Frustrated because they can't continue watching after landing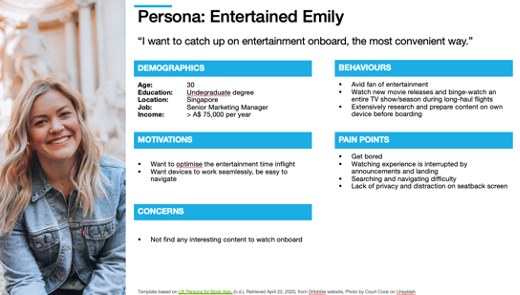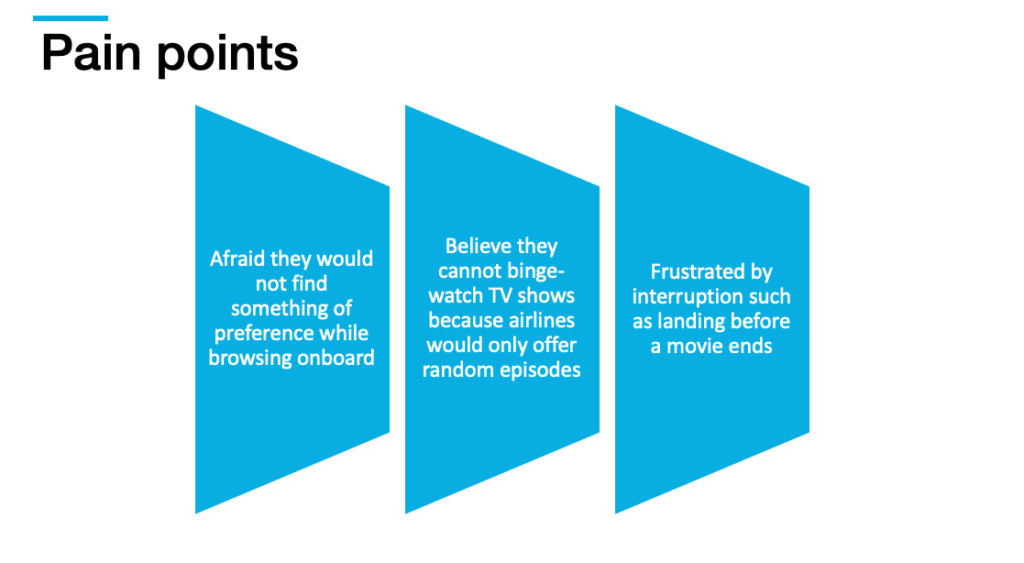 Design Iteration Process:
I brainstormed the solutions using storyboards and conducted a card sorting exercise and concept testing with users:
Before the flight, encourage users to browse and create playlists on their IFE mobile apps (including Netflix titles offered in-app), then suggest titles to add to the playlists based on what users have already selected.
When users are on board, let them sync these playlists on their IFE mobile apps to the seatback screens.
If the flight lands before a movie ends, let users choose to resume watching on their own devices or on the next flight.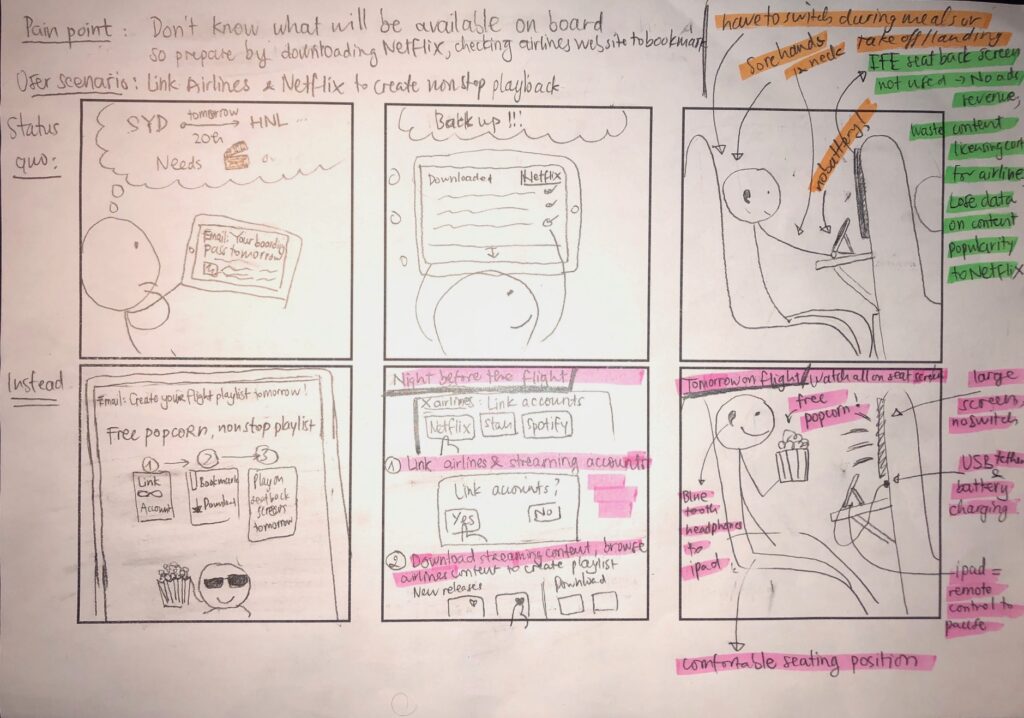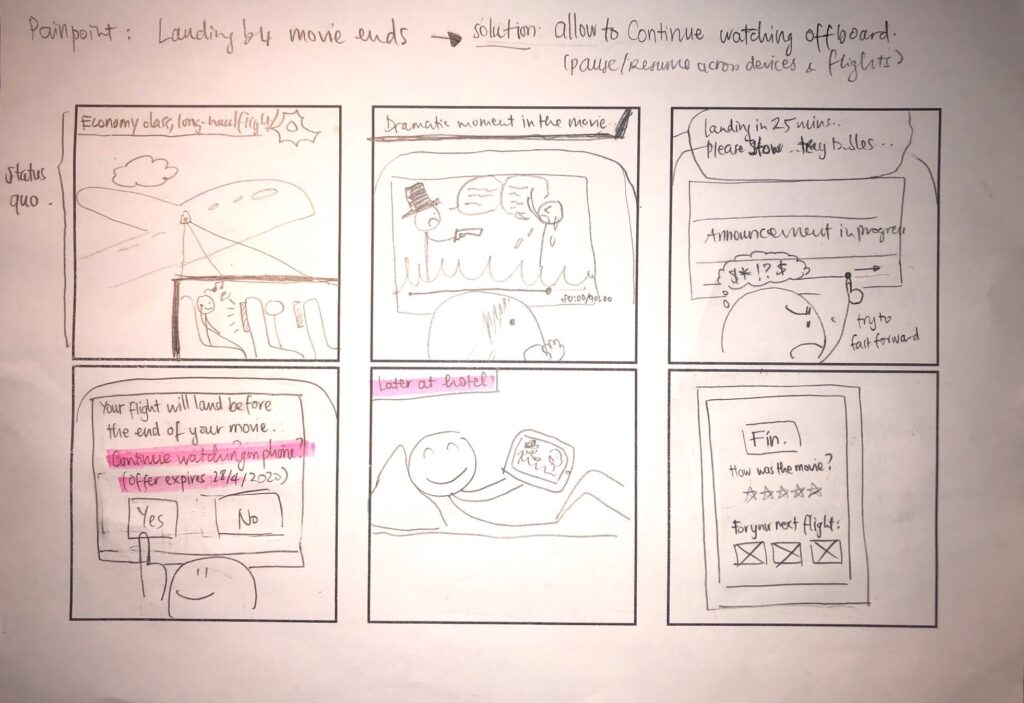 Low fidelity prototypes & user testing:
I conducted think-aloud prototype testing and System Usability Scale (SUS) survey with the 8 users on 2 iterations of a series of low-fidelity prototypes and wireflows.
Some terminology is unclear and visual elements are either too small or misplaced leading to confusion.
Users prefer shortcuts (eg. search vs browse) & if an interface does not match their mental models they immediately find alternative paths instead of stopping to think about them.
Users value ease & convenience the most in syncing options – eg. QR code or seat number.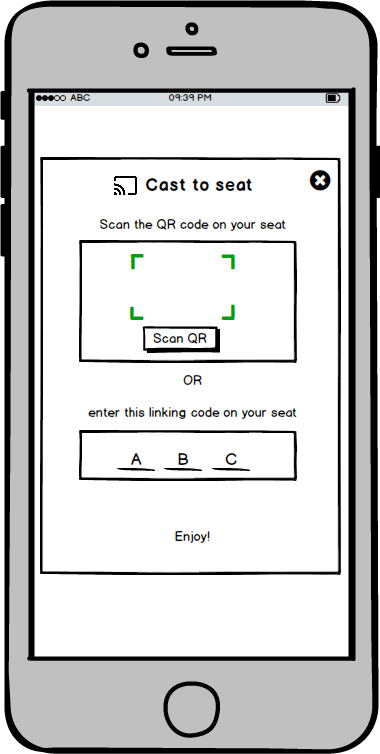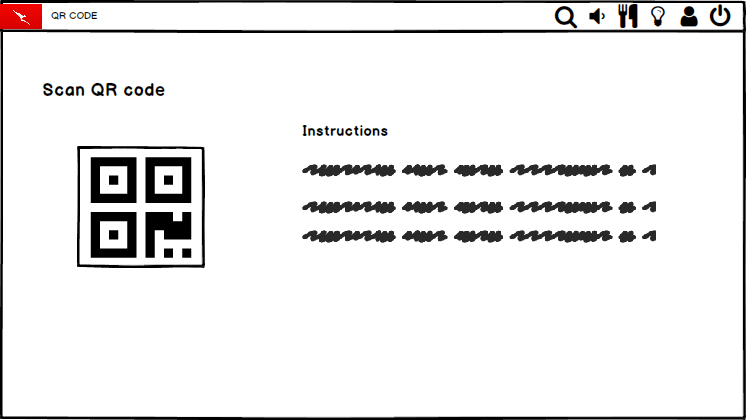 High fidelity prototypes & user testing:
The same think-aloud testing with 4 users was conducted together with a Heuristic evaluation, achieving SUS scores above 80.
The high fidelity prototypes provide millennial travellers the best of both worlds in inflight entertainment, ie. a comfortable "leaning back" watching experience on a larger seatback screen compared to a handheld device, while not compromising on content quality and availability.